Summer and Strawberries go together!
This is my newest pattern:
Strawberry pincushion, needlecase, and scissors fob pattern #330
It is in my
etsy shop
, in my
patternmart shop
, and
on my website
(for printed/mailed patterns)
There is the Strawberry pincushion box....that can be made with or without the paper mache box.
Pincushion on box design measures: 4 1/2" x 4 1/2"
Pincushion alone measures: 4 1/2" x 3 1/2"
The strawberry needlcase.....with little flower.
Needlecase measures:6" x 4", not including ribbon
And the small strawberry scissors fob
Scissors fob/needle sharpener measures:2" x 1 3/4", not including ribbon
This delicious pattern has everything you need to start sewing. A strawberry pincushion on top of a box to stash some supplies... a needlecase to store your needles & pins... and a scissors fob with strawberry needle sharpener. These are easy, fun, and quick.
Here is what the needlecase looks like when open!
Create a special gift for your BFF. The scissor fob keeps your pins, needles, and scissors handy. This is the sweetest set of accessories to your end table or sewing room. Use special techniques for all your paper mache boxes....any color or size. Learn how to make pretty banners from scraps of muslin. Learn how to make super fast strawberries for bowl fillers and christmas ornaments. Make strawberries from velour and velvet too.
The box can store you goodies!
Great craft show projects!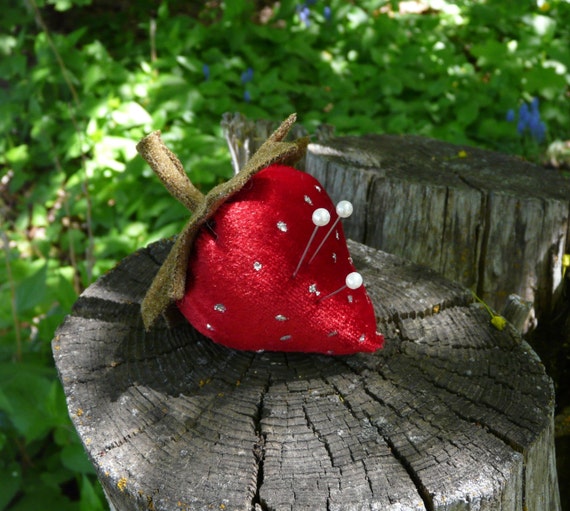 I also tell you how to do this style in the pattern.
Time for some Strawberry shortcake!
Come to the
Pin me linky party
and
the Party Bunch!